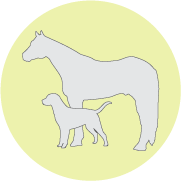 Physiotherapy & Osteopathy
At first there is a baseline study in a familiar environment where we find out the exact problems or deficiencies with the help of the owner or the keeper. I do function tests, analysis of gait, foot assessment, behavioral tests etc.. Basic examination testing and may be the diagnosis of the veterinary medical are to determine what procedures or therapies are suitable. Then we will prepare an individual treatment plan.
Which problems?
Muscle tension, lack of coordination and freedom of movement, shorter stride length, pain, stiffness in movement, injury, lameness, OP's. Nervousness, depression, anxiety, panic, trauma, defensive behavior, aggression, behavioral problems, Laminitis, hoof problems and psychosomatic contexts.
I offer you the following forms:
single dates
group dates
residential care / rehabilitation
Verhaltensberatung / Coaching für Menschen mit Hund
Hunde haben es in der heutigen Gesellschaft sehr schwer. Sie müssen sich oft entgegen ihrer Natur extrem anpassen und unauffällig sein, um weder bei Mitbürgern noch bei Ämtern "anzuecken". Dies führt häufig zu Problemen, die das Miteinander stören.
Bei auftretenden Problemen sucht man verzweifelt nach den verschiedensten Lösungen. Aber man vergißt nach den Ursachen zu suchen!
Ihr Hund bellt viel, drängelt sich vor, springt Sie oder andere Personen an. Er knurrt oder schnappt sogar, wird nicht stubenrein oder zerstört Gegenstände u.ä.m.?
Ich komme zu Ihnen, lerne Sie und Ihren Hund kennen. Nur so kann ich mir einen Überblick über das /die Problem/e verschaffen und herausfinden, was die Ursache dafür ist. Denn Ursachenforschung ist die Grundlage für Problemlösungen. Gemeinsam gehen wir es dann an und wählen die Methode/n, die für Sie, Ihren Hund und die Situation die jeweils beste Methode ist.
Food coaching and nutrition for dogs
Nutrition is an important part when it comes to the health of your dog.
Without the right and important nutrients / food, the health of your dog gets out of balance sooner or later.
Obesity, hormone disorders, disorders of the cardiovascular system, pain in the back and joints, and so on are problems that not only physically but also psychologically are stressing your dog.
Behavioral abnormalities can also be positively influenced by a dietary change.
From puppy to senior dog – I advise you competently and individually.
Call me or write me. I am looking forward to meeting you soon.
* Coaching * Analysis of needs * Food check * Feeding schedule for dry, wet and fresh food
* Dogs with special needs * Puppy * Pregnancy / rearing
* Laboratory services: feces – urine – fur
permissions: I checked in accordance with § 11 (1) TierSchG (Animal Welfare Act) and confirmed by veterinary authorities of Landkreis Wittenberg as resp. for
no. 3    – shelter device (sanctuary)
no. 5    – animal welfare and abroad.
no. 8a – animal keeping (kennels)
no. 8f  – teaching people how to educate their own dog(s)
I can assist your dog / your horse health by following complementary alternative medical treatments
Application of heat
Application of cold
magnetic Therapy
massage
stretching
Kinesio Taping
acupressure
Meridian work
Japanese healing streams
Kinesiology
Osteopathy
Craniosacraltherapie
Dorn therapy
homeopathy
bach flowers
and …
agility training / gymnastics
massage
stretching
relaxation training
stabilization training
floor work
clicktraining
creatives & games
coolness training