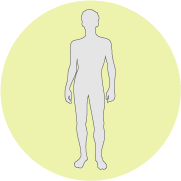 … release tension, reduce pain
… sleep better, balance
… improve posture, stabilize
… be more movable, increase the resilience
… better learning, overcoming fears
… correct wrong posture
… promoting the ability to concentrate …
… develop creativity
… activate the immune system, regulate weight
… find your point of balance, arrive
… reduce stress
… learn playful elements for everyday life
… learn relaxation techniques
… just feel better!
Movement & mobilisation for back and joints
Movement is an important prerequisite for staying healthy and enjoying life. Movement deficit and diminishing mobility in the back and joints is manifested in various symptoms and favors civilization diseases.
With the right programs and exercises you will be more mobile, pain and tensions are getting less and less – your immune system and the self-healing powers can be strengthened again.
Kinesiology and others
Kinesiology and knocking acupressure are modern methods for stress reduction. Japanese healing streams, meridian exercises, Reiki, the 5 Tibetans and others solve individual (energetic) blockages and reconcile feelings, thoughts and actions. In school and at work these methods are use to improve performance, skills and concentration.
Pain reduction
To reduce pain, it is important to link two aspects together … the treatment of the cause of the pain and the perception of the pain. We will find out which method, which technic is appropriate for your individual situation. My goal is to provide you with fast and reliable help …
Social Training – Team building – personality development
Through experiential education programs (process work) head and body in a manner claimed the perception of their own abilities and self-esteem in a particular way to strengthen. Social tension, aggression and even behavioral disorders can also be counteracted.
Animal assisted activities & therapy
Children, adolescents and adults up to the age of 100 years can benefit from the effects of these activities and promote social and communication skills, concentration and development, movement and motor skills.
Individual single-analysis – treatment recommendation – treatment – individual training – home visits
Psychotherapy / Creative therapy
Support in problematically life situations…
systemic coaching & constellation
behavioral therapeutical
movement & therapeutical program
playtherapy
creative therapy: puppetry, felting, handcraft u.a.
Children, adolescents and adults up to the age of 100 years – single training or groups.