Furniture & accessories in the Scandinavian country style
For typical scandinavians life including furniture & household items and many small details that make all the Scandinavian country style. Maybe you'll find soon exactly the right unique piece …;))
Scandinavian Countrystyle – a 2,5 day workshop and adventure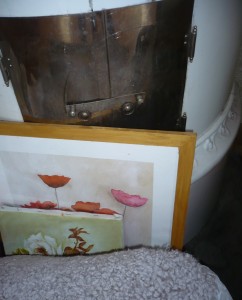 … weather Landhausstil * Countrystyle * shabby chic * or Retro * this workshop is all about Scandinavian countrystyle!
Furniture, rag rugs, accessories, clothing … everyone can bring his favorite piece, inheritance or found object and improve, revamp, redesign in the spirit for "LandArt".
Start's on Friday at 16 o'clock. After a creative round sitting at tea and coffee (fika) it starts:
Up to 21 clock its works, sanded, primed, discussed, painted, laughed, dyed, crochet, sewn …
Saturday & Sunday after a Swedish breakfast we happily continue to our work.  At lunch we will have some  Swedish lunchbuffet or gula ärtsoppa.
The first pieces are already finished or are ready for drying.
In the afternoon we strengthen ourselves again with tea or coffee, so it can go on merrily.
On Sunday at about 15 o 'clock the final presentation takes place. A beautiful sight of all the wonderful creations that give us inspirations for new ideas. ;-)))
The participation fee of 180 EUR or 1880 skr. includes taxes, breakfast, lunch, coffee breaks, soft drinks and material consumption.
We have also always a small range of furniture, accessories, towels, sheets, pillowcases etc. which can be purchased inexpensively for this workshop.
The next DATES:
August 2015 … in Västernorrland / Sweden
October 2015 …  in 18276 near Güstrow
I offer my workshops in Mecklenburg Vorpommern near Güstrow and in Sweden / Västernorrland.  A good opportunity to connect holiday in Sweden to a treatment or a workshop. The workshops are intended for different target groups and also of the max. Number of participants is limited. On request it is possible to arrange  similar workshops specific to your institution / your company need and also create completely new.
Original from Sweden
Rag rugs in Scandinavian Design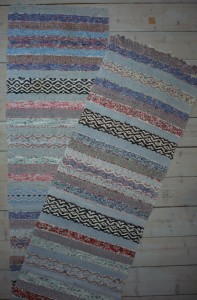 Rag rugs in various widths and lengths – up to 6 meters.
Rag rugs are available in Sweden since the early 19th century – so it is more than 150 years. Generations of women wove these wonderful, tasteful rugs in a variety of colors   and patterns. Each patchwork quilt is unique.
Prices vary depending on length. A selection of rag rugs can be found on ebay / nordic.impressionen.
The rag rugs I offer come directly from Sweden.
They are used and sometimes also exhibit signs of use.
This can be dust and stains. However, sometimes damage, which I then notes separately.
Normally, dust and stains are removable by hand wash / machine wash at max. 30 degrees (no spin).
Shipping is with DHL / Hermes.

Let a little "Sweden" move in by a Swedish original patchwork – unique!